No matter what type of product or service you're selling, online customer reviews are essential to building the know, like, and trust factors for new visitors to your website.

And when it comes to local searches, in a survey conducted by BrightLocal, they discovered that 85% of consumers trust the online reviews they read about a company just as much as a personal recommendation from a friend.
Still not convinced that online customer reviews should be something you focus on? How about this for an eye-opener… Only 48% of consumers would consider using a business with fewer than 4 stars.
Doesn't it make sense to ensure that you're doing everything you can to increase your positive online customer reviews then?
That's what we think and that's why you're going to learn how to get great online customer reviews that not only increase trust, but also earn you more clients.
Let's dive in.
Why online customer reviews are so important
Consider this scenario…
Your partner's birthday is coming up. And it's a big one. You've decided to get all your friends together for a fancy dinner to celebrate the occasion.
What's the first thing you do?
If you answered "Jump on Google to search 'fancy restaurant'" you'd be right.
And these are the types of results you'll likely see: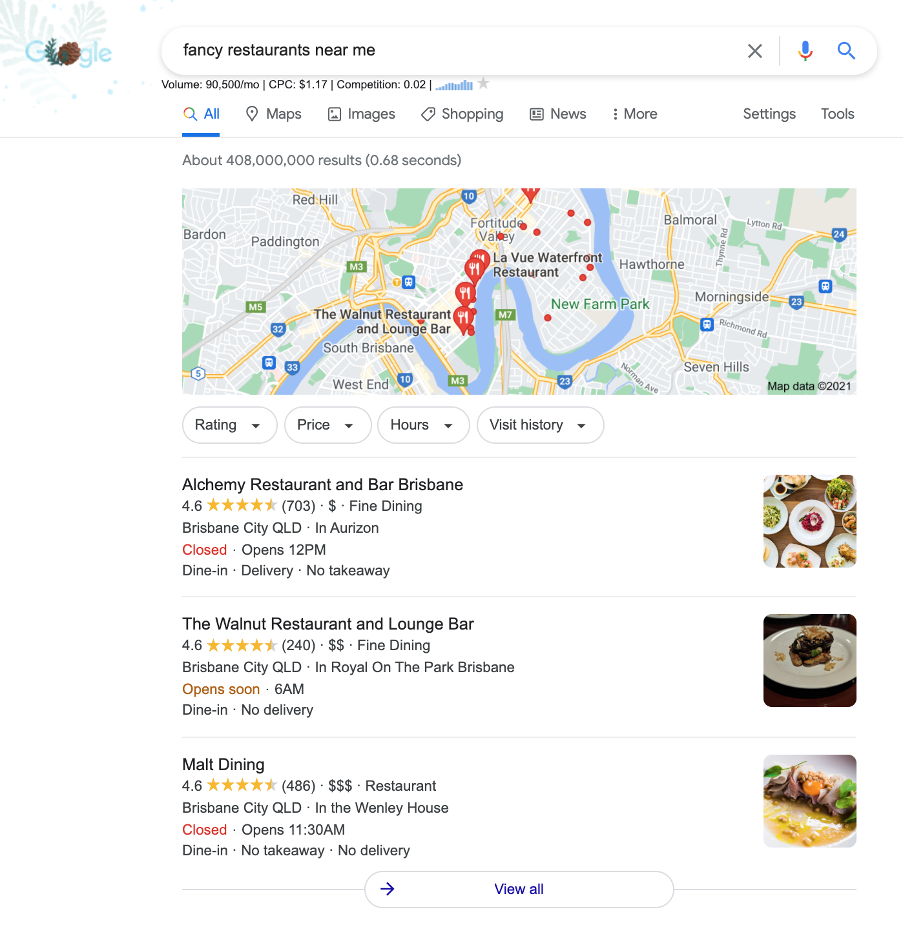 And as you're looking at those searches, do you know what stands out to you the most? The number of star ratings each restaurant has.
You'll likely only focus on the 4+ star restaurants. You'll open those up in new tabs and then, do you know what you'll do next?
Yes. You'll read those reviews.
And when you understand that 73% of consumers only pay attention to reviews written in the last month, you'll see how important those online customer reviews are to your business.
The better the reviews, the more business you're likely to get.
Types of online customer reviews
There are several types of online reviews you could potentially receive as a business.
From social media, your website, right through to Google search results.
But the most trusted resource for consumers when shopping online is a third-party review site.
In Australia, the most common third-party online review sites are:
For restaurants, cafes etc, Zomato, OpenTable, and TripAdvisor along with a Google search

For retail stores sites like ProductReview.com.au and Choice.com.au feature prominently

For service-based businesses, sites like TrueLocal.com.au and Yelp are used frequently
It's important that you pay attention to these third-party sites to monitor the online reviews you're getting there. All it takes is a couple of recent 1-star reviews to turn potential customers away from your business.
How to get more customer reviews
So how do you get more online customer reviews? Well, it's not just about getting reviews, it's about getting the best reviews.
Of course, the most important ingredient to getting good reviews is providing outstanding customer service. But what else can you do?
Here are three ideas to increase customer reviews:
Offer a gift for every review received

. We're not talking about a physical gift, although that is certainly an option if you want to up the "wow" factor. But if you want to keep things simple, offering a discount code in exchange for a review is normal practice for encouraging customer reviews.

Ask for a review at the right time

. When's the right time? When a customer is the most motivated… when they have just experienced your product or service. This can easily be achieved by following up with them via email to ask them to share their experience within 24 hours of buying from you.

Share positive reviews.

There are a couple of ways that you can do this. You can create a page on your website that highlights all the positive reviews you've received online. You could also share these on your social media platforms. You could also share these inside your emails.
Get Online Customer Reviews With Ease
Ensuring that you're actively getting online customer reviews means that you increase trust with potential new customers and also earn more clients. 
But if it all sounds a little overwhelming and you aren't sure where to start, we're here to help. At ClickSquad, we grow our clients' brands through performance-based digital marketing strategies.
We'll help you make sure that you're optimising every opportunity to get online customer reviews by ensuring that the content and SEO strategies you have in place are working for you.
Get in touch today, and we'll talk you through the next steps to get your brand noticed online.