What is a buyer persona? And why is it important to improve your audience targeting? Simply put, a buyer persona is a semi-fictional picture you paint that represents your target customer. For example, you might create a buyer persona called Savvy Sally.
"Savvy Sally likes to research all her online purchases before landing on the best deal possible. She spends a lot of time browsing coupon sites for the best deals. Savvy Sally also loves quality. You'll find her saving her pennies, waiting for the opportune time to spend them at her favourite high-end store when they have a deep discount sale."
You can have multiple buyer personas for different products and offers inside your business too. When you have the right buyer persona created and it truly represents your target audience, you're able to do things like increase website visitor duration by 900% or increase marketing-generated revenue by 171%.
Developing buyer persons is not easy though. Where do you start? What if you've got no idea how to dig deeper than standard demographics? What questions do you ask? Isn't it sleazy reaching out to customers and asking them personal questions?
We get it! Inside this post, we're going to help you develop and create buyer personas that are focused on helping you improve audience targeting, no matter where you are in your business.
How to Create a Buyer Persona
Below you'll find five simple steps to get you started on creating your first buyer persona. Once you've created this, you can create more as you get familiar with what makes your target customer really tick.
Step 1: Start with your team
Before you dive into creating buyer personas, it's important that your team communicates and understands what you're trying to achieve. It's also a great starting point to hear what they believe are your customers' pain points, goals, and common behaviours.
You'll want to have open discussions with the sales team, customer service team, and marketing team to explain (if needed) what a buyer persona is and to get their initial feedback about the types of customers that buy your products and offers.
Some great questions to ask your teams include:
What types of customers do they typically meeting/chat with/support every day?

Why do different types of customers make a purchase?

What are the reasons they give for buying from your company vs. your competitor?

What are the most common objections/complaints you hear?
Step 2: Conversations with your current or past customers
While you might feel like you've got a good platform to create your buyer personas from after chatting with your team, this is really just the starting point.
To get buyer personas that improve audience targeting and conversions, you need to dig deeper and speak with your current customers one-on-one.
The conversations you had with your team need to be validated. The only way that can happen is if you speak to your actual customers. You can do that by asking them specific questions to understand more about their buying behaviours and the challenges they may have faced while deciding on your product or offer.
The number one way to do this is to interview your customers so you can develop buyer personas that resonate.
Deciding who to interview
In order to develop thorough buyer personas, you'll need to chat with a range of customers who have different demographics, such as background, buying habits etc.
The best people to help you select customers to interview is your sales team. Ask them to identify a few customers who might fit the different buyer personas you're looking to create.
Ideally, you'll interview people who have either:
●      bought your offer
●      have never bought from you
●      have purchased from your competitors
This cross-section will provide you with the best information to develop your buyer personas from.
Questions to ask during the interview
You'll want to ask questions that establish their basic demographics before asking questions that reveal more about their buying behaviours.
Here are some options to get you started:
Where do you live?

What is your marital status?

Are you renting or do you own your home?

Do you have children?

What industry do you work in?

What's your education level?

How long have you been in your current job?

What does a day in the life look like for you?

What do you find fun?

What tv programmes do you watch?

How do you learn about a product or service before you buy?

Where do you prefer to do your shopping?

How important is finding the best deal for you in your decision-making process?

What's most frustrating about your day?

What makes you angry?

What's the worst customer service experience you've ever had?

What keeps you up at night?

What about your life are you most proud of?
 These form a good base to help you start understanding your buyers.
Step 3: Compiling your information into a profile aka buyer persona
Now that you've got all this data, your next step is to turn it into something that you and your team can actually understand and practically use day-to-day.
The best way to do this is to create a profile for each of your buyer personas.
Within each profile, you'll include information like: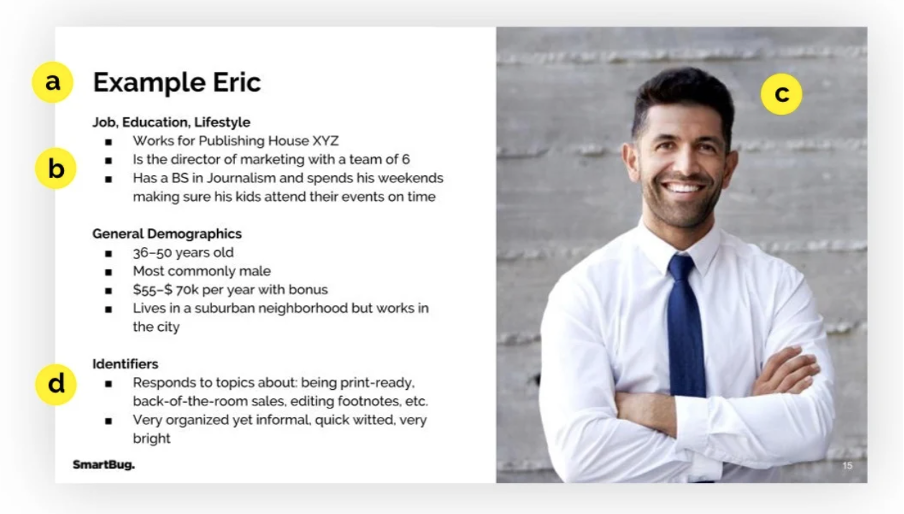 Source: SmartBugMedia.com
a)    The name of your buyer persona, something that's easy to remember for your team
b)    General demographics that depict their job, education, and lifestyle preferences as well as age, income etc
c)     An image! This is important. This allows you to really develop message with a person in mind
d)    The specifics of this buyer persona that is unique to them.
Now that you've got your buyer personas created, how do you use them?
Creating a Buyer Persona To Improve Audience Targeting
When it comes to running paid ads, you'll want to ensure that you're investing money into the right platforms and locations, ones where your ideal customers are hanging out.
With buyer personas, you can use these to really help narrow in on your audience targeting when running ads on platforms like Facebook and Instagram.
You can take some of the key phrases and identifiers they use and target them inside Google ads.
When you have buyer personas you're able to improve audience targeting because you have a clear profile to work from.
Hammering Out Your Marketing Plan with Click Squad
Need help developing buyer personas that instantly connect with your ideal customer and convert them into long-time buyers? We can help! At Click Squad, we'll make sure that your business attracts customers with ease and helps improve your audience targeting and acquisition process. We can't wait to work with you. Give us a call today for more information, and we'll create a marketing plan and strategy that attracts the right leads into your world.